The AIA|LA Design Awards recognizes design excellence and individuals with a history of fostering the continued value of architecture in Los Angeles
We are honored to be chosen as the recipient of this year's Presidential Honoree Design Advocate Award by the American Institute of Architects Los Angeles Chapter!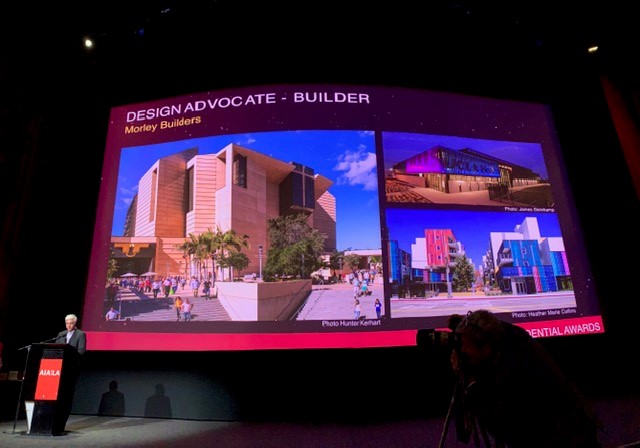 "The Design Advocate Award recognizes a builder/contractor who has a demonstrated track record of success for fostering the continued value of architecture and urbanism, and have served as strong professional advocates for the importance of design excellence," says an AIA|LA announcement.
Amongst the most prestigious and competitive award programs for architecture in the United States, the annual AIA Los Angeles Design Awards honor excellence in built work in LA. In addition to advancing design excellence, the 2019 honorees are characterized by community, diversity, and social engagement. They expand the nature of the profession and deepen ties to community and region through design. This year, thirteen members, firms, projects, individuals and companies were chosen as Presidential Honorees.
In addition to the Design Advocate Award, Morley was also recognized for our work on the recently completed LA Plaza Village, chosen as the winner of the Building Team of the Year Award. This award acknowledges the efforts of a variety of entities successfully working together in the formation of a significant contribution to the built environment of Los Angeles. "LA Plaza Village harnesses a wide-ranging group of team members to deliver a far reaching, thoughtful project near the heart of the city," shared AIA|LA of the Downtown LA mixed-use complex.
Additional Morley project award winners included The Arroyo Affordable Housing, honored with a COTE Merit Award in the multi-unit residential category and Geffen Hall at UCLA, honored with a Design Citation Award in the Educational category. Morley provided general contracting services for The Arroyo and structural concrete services for Geffen Hall.
The awards were bestowed at the annual Design Awards ceremony on Monday, October 28th at the Saban Theatre in North Hollywood. A full list of honorees is available at AIA|LA.