Morley Builders to Execute Lorcan O'Herlihy Architects Design for the Hancock Park Project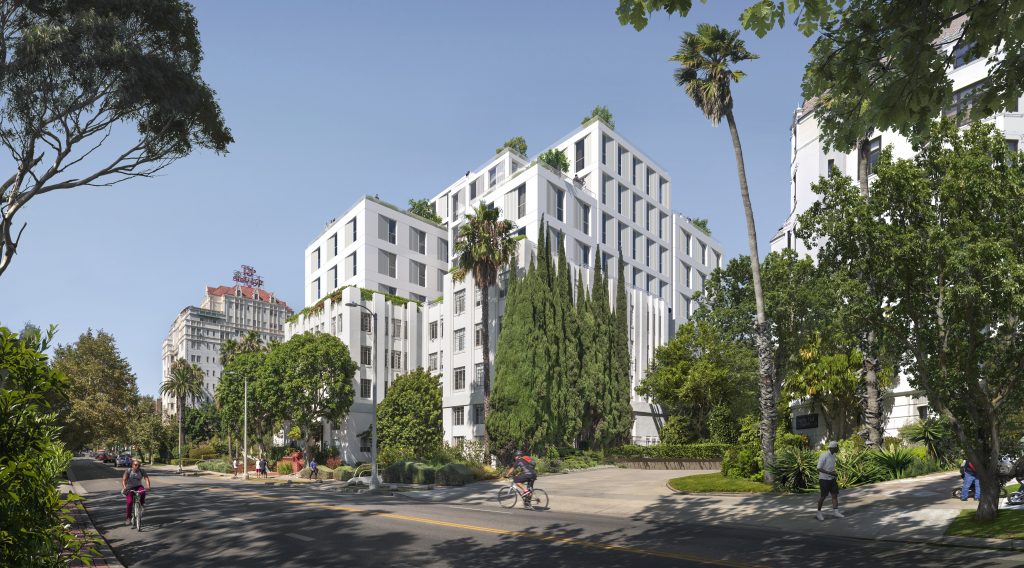 Domos Rossmore LLC, a Los Angeles/Atlanta based residential developer, has selected Morley Builders to execute the design vision of Lorcan O'Herlihy Architects (LOHA) for 410 North Rossmore in Hancock Park. The adaptive reuse project is slated to begin the construction phase in July and will take approximately 20 months to complete.
"Morley Builders is very excited to team up with Domos and LOHA to work on this challenging renovation," says Morley Builders Project Executive, Carlos Orozco. "The conversion of this building will add much needed rental housing to the area."
"We selected Morley Builders for its proven track record of handling complicated adaptive reuse projects in a cost-effective way, while adhering to a rigorous schedule," states Richard Loring, Director of Design + Construction, Domos Rossmore LLC. "Morley has also been brought on-board to assist in project preplanning and are working closely with LOHA, as well as our entire consultant team, to design a seamless process and a superior building."
The reconfigurations will include the addition of five floors with studio, one-bedroom, two-bedroom and co-living apartments, providing the building with attainable rental space. The renderings showcase 65% traditional and 35% co-living units throughout the building with the ability to house 225 residents. In co-living suites, residents will have single occupancy private bedrooms and baths but share kitchen and living room facilities. Included in the new plans are a gym, pool, spa and amenity space on the ground floor, coworking extension spaces throughout the building, and a lounge deck and event space on the roof. In addition, some of the floors incorporate open, outdoor living spaces.
According to O'Herlihy, "Cities grow incrementally. Our 410 Rossmore project represents a new paradigm and contribution for helping to address LA's housing crisis. Not only does it carefully adapt a 1930s era building, but creatively weaves additional housing in and above the original floors. It also presents an alternative housing model, co-living. I believe co-living is part of the future of smart growth in Los Angeles."
410 North Rossmore, is adjacent to several internationally noted historic properties such as the El Royale and the Wilshire Country Club. "We purchased this property with the goal of providing an updated, code-compliant building with reimagined units and amenities," states Daniel Alexander, principal, Domos Rossmore LLC. John Labib and Associates has been hired to navigate the seismic safety upgrades of the building, while adhering to the intent of the U.S. Secretary of the Interior's Standards for the Treatment of Historic Properties.